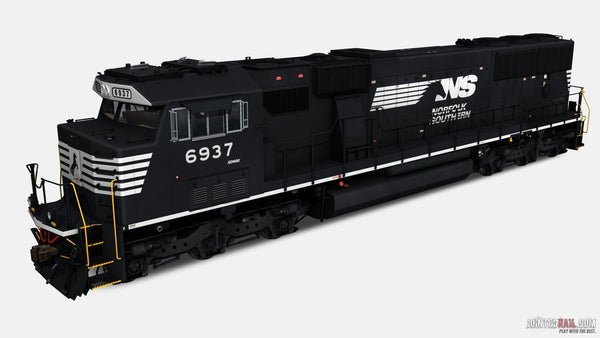 In Game Downloadable Content (Requires Internet Connection)
Compatible with: TRS19 TANE SP2 and Above TANE SP1
The "Horsehead" paint scheme is the standard livery for NS. 

In November 2011, Norfolk Southern unveiled SD60E 6920 – painted in a blue, red, white and black "Honoring our Veterans" paint scheme. In March 2013, Norfolk Southern released NS SD60E 6963, which was painted in a special paint scheme for "GORAIL." In May 2015, Norfolk Southern unveiled another SD60E, number 911 – painted in a red, white, and gold, "Honoring First Responders" paint scheme.
Check our "NS Mega Pack" bundle which includes all four variants.
Experience the power of the NS SD60E - Horsehead as you shunt the yard and make your freight runs!
Features of the NS SD60E - Horsehead include:
Brand new Custom Cab and in-cab Signals!
Fan Animation
Ditch Lights
Night Lighting
Surveyor Tip: To create your own custom session in Surveyor using your new locomotive. Locate the NS SD60E - Horsehead by selecting the 'Train' Tab and searching for 'NS'.